※Since you are using a Google translation, there is a possibility sentence is incorrect.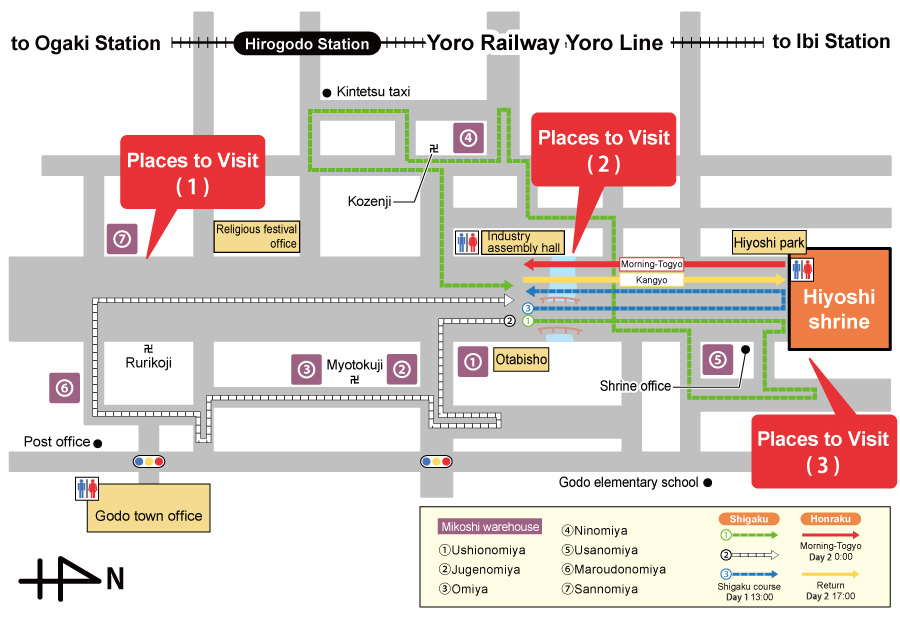 Places to Visit(1)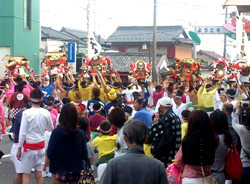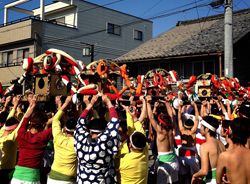 It raises all at once the seven mikoshi.
| | | |
| --- | --- | --- |
| May 3 | About 15:00 | It raises all at once the seven mikoshi. |
 Young men and children from 13:00 is, is responsible for the "medium mikoshi", which is a small mikoshi, and walk through the town at the root it is written on the map.
 In this sequence seven "medium mikoshi" is in a horizontal row, and lift up all at once.
Places to Visit(2)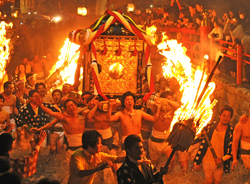 Morning Togyo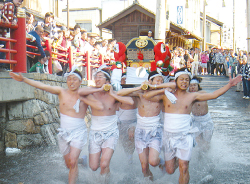 Medium mikoshi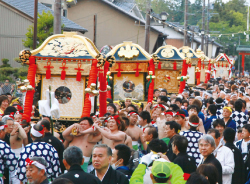 Return mikoshi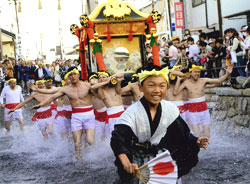 Kangyo
May 3
About 16:00
Medium mikoshi
May 4
About 0:00
Morning Togyo
About 17:30
Kangyo
About 18:00
Return mikoshi
 And the cross are mikoshi to "ShoKuro river" which is said to resemble the Lake Biwa, is one of the festival highlight.
 Medium mikoshi once, large mikoshi is over three times.
 However, Usa temple the only mikoshi built is on the north side of the river, and cross again in the return mikoshi.
 All Togyo of this festival is "mikoshi run" But, return mikoshi went back to each town to walk slowly while repeating the "lift up" and "Dondo", will be paid to each of the mikoshi built.
Places to Visit(3)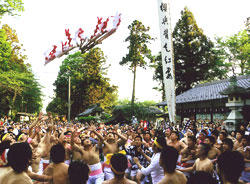 Chikaragami of Kangyo.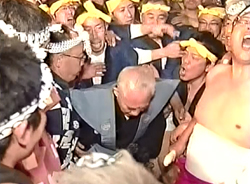 Bow of the chief mourner
of Morning Togyo.
May 4
About 0:00
Chief mourner bow.
About 17:30
Chikaragami dropped.
 Chief mourner was starting the festival office, the number in the hundreds of torches escorted proceed over a period of about 50 minutes, leaving the Ushionomiya of shrines to sign it when you bow in front of the shrine.
 It is the moment when the festival's excitement is in full swing.
Mikoshi warehouse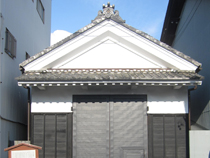 (1)Ushionomiya
(2)Jugenomiya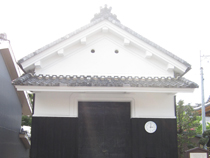 (3)Omiya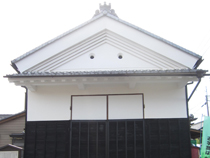 (4)Ninomiya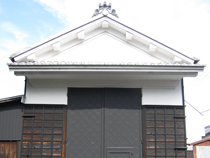 (5)Usanomiya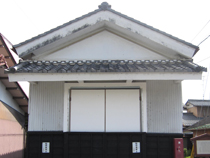 (6)Maroudonomiya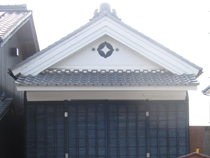 (7)Sannomiya

Top of Page